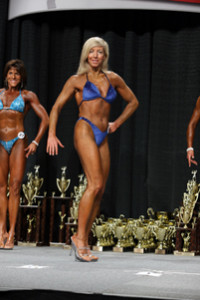 Northern KY Beverly International NPC Bodybuilding and Fitness 2011, 5th place Photo by Jim Schwarz Photographers
The reason I'm writing this post is because I believe that Allegheny General Hospital has the best Breast Cancer Center in the US and because I also happen to be a patient there. Where I receive treatment is of utmost importance to me because I'm an NPC level athlete and compete in the figure division of bodybuilding. I'm still a young professional with many working years ahead of me and can't afford to be ill if I want to remain competitive in the today's marketplace. I'm a personal trainer and need to be a good example of health and wellness so I can set a standard for other cancer patients and survivors to want to follow.  
When I was first diagnosed with stage 1 breast cancer I was horrified beyond belief and didn't really know what to expect. I had a million questions and started writing everything down. I asked one of my doctors where do I even start and I was immediately assigned to a nurse who was available to answer any and all of my questions. When I would go into the center for mammograms, biopsies, etc. I quickly learned that I had endless support from the receptionist all the way to the best doctors in the hospital.  
I trust my doctors and healthcare providers at the AGH Breast Cancer Center to provide me with the absolute best healthcare around. I have to see a series of doctors from Breast Surgeon Dr. Erb who performed my breast surgery, to Dr. Bibbiana Klepchick – who did my breast biopsies. Dr. Colonias – my Radiation Oncologist, and Medical Oncologists Dr. Greenberg, and Dr. Raymond. This team of doctors, nurses, technicians, and staff are the best at what they do. Royalty couldn't get better healthcare than this. Once you become a patient at AGH Cancer Center you will receive not only the best contemporary medicine has to offer – you will also receive tremendous support not seen in many hospitals today.
I have given talks to cancer support groups and have heard many breast cancer patients and survivors say that you really need an advocate to go to bat for you wherever whenever faced with treatment and follow up care. I informed these ladies that I didn't really need an advocate because my doctors and healthcare providers are my advocate. AGH has the best healthcare and should be a model for other cancer centers to follow.
Around the time I was diagnosed I was training to compete in bodybuilding and still managed to attend the Arnold Expo in Columbus Ohio. I did the USMC Men's Fitness Challenge just three weeks before my cancer surgery. I was also going to try out for the American Gladiators – I had tried out for the Gladiators back in the 90's. Some of my doctors jokingly refer to me as – the bionic woman.
Allegheny General also offers the most cutting edge techniques that are being utilized to treat breast cancer. AGH also has many clinical trials going on and Dr. Thomas Julian was voted one of the top doctors by U.S. News and World Report. His partner is Dr. Erb who is my surgeon and if he is the best then so is Dr. Erb. I thank God for my doctors and their outstanding level of skill. I can't say enough about this outstanding hospital and I hope that Highmark feels the way I do about this wonderful facility. Feel free to email me at [email protected]

Sincerely,
Lisa Nicolette